Have you ever been in a situation when you knew–really knew–exactly which direction the Lord desired for you to take? What were your choices? What did you choose? Any regrets?
Do you trust God? How do you know?
Many of the ideas in this post originate from a wonderful article that helped me ponder 'trust in the Lord'.  "How much do I trust God? What does 100% trust look like? What does it take to trust God?  What stops people from trusting God? Why trust Him at all?" I've listed my accumulated thoughts. Is there more you can share?
Why trust in God?
* Your needs are great and varied
* You are His unique child
* He knows you individually
* He loves you
* He wants you to be happy
* He has your best interest in mind
* A lack of trust in Him brings sadness into your life
* He will send you messages of encouragement, correction and direction-fitted to you and to your needs
* He will counsel you personally with His wisdom-He can tell you exactly what you need to do-for your needs
Heartaches.  Grief. Anger. Hopelessness. Contention. Depression. Lack of direction in life. Divorce. Loneliness. Burdens of life. Unfulfillment. Frustration. The list of pain and anguish is endless. Countless long for relief but don't know where to turn. The joy and happiness longed for can be very elusive.
Every individual on this earth has reason to turn to God. Each longs for a life overflowing with joy and happiness.
"I would declare unto every soul, as with the voice of thunder, repentance and the plan of redemption, that they should repent and come unto our God, that there might not be more sorrow upon all the face of the earth." Alma 29:2
What stops you from trusting God?
* Pride
* Fear
* No idea of how much He loves you
* Don't know or believe that He truly is mindful of you
* You trust in men's wisdom
* Lack of belief in His power to make or bring change
* Lack of belief in His power to fill your heart with joy, peace, happiness
* Lack of belief in His power to heal the pain, distress and grief of your heart
* Denial
* Lack of integrity
* Lack of a good heart
* Lack of honesty
* Unwillingness to obey His counsel
* A refusal to repent-that is, to turn and go in the direction he indicates.
Do you agree or disagree? Any more you can add to this list?
 "They that observe lying vanities forsake their own mercy" Jonah 2:8
What is the result of not trusting God?
Recall Jonah's experience?  The Lord sent him to Nineveh to call the people to repentance.  
Jonah boarded a ship going Tarshish-the opposite direction. His plan was to hide from the presence of the Lord. A mighty tempest entered his life while he was sleeping.
Waters compassed him…weeds wrapped around his head. (Denial, engulfed in misery, depression, lack of belief in God's power, definitely didn't trust the Lord). He did recognize that he was on this worldly level forever-no progression happening here.
What happens when we leave the presence of the Lord?
* Pain
* No joy
* No peace
* No happiness
* No blessings
* No progression
We reject His plan for our life. This lack of trust in God brings sorrow and misery to Heavenly Father's children.
Then Jonah says he remembered the Lord- and he prayed.
What does it take to trust God?
* Courage
* Humility
* Honesty
* Remaining in God's presence
* Desire to develop trust
* Two way communication ( Jonah prayed then he says of God, " He heard me", "Thou heardest my voice")
* Commitment
* Knowing God
* Recognize our salvation is in Jesus Christ
* Willingness to obey His commandments no matter how hard they appear
* Repentance-turn in opposite direction
* Thanksgiving
* Keeping our covenants, promises, vows
And then the Lord 'spake' unto the fish. God acted –and saved Jonah. A second time He sent Jonah to Nineveh. Jonah did go and his mission was successful.
"I will go and do the things which the Lord hath commanded, for I know that the Lord giveth no commandments unto the children of men, save He shall prepare a way for them that they may accomplish the thing which he commandeth them." 1 Nephi 3:7
When we trust in God, what do we receive?
* Peace
* Security
* Healing
* Strength
* Greater light
* More faith
* More talent
* Harmony
* Confidence
* Prosperity
* Greater joy
* Greater happiness
"…in an honest and good heart, having heard the word, keep it, and bring forth fruit with patience." Luke 8:15 (KJV)
Trusting God will bless:
*  Our life
*  Lives of our families
*  Our communities
*  Nations
"And if you then go and do what He would have you do, your power to trust Him will grow, and in time you will be overwhelmed with gratitude to find that He has come to trust you."  Henry B Eyring
Do you trust in God? How do you know?
*************************
How do you feel when you read the Book of Mormon? Several times I've heard some people say, "It's just like the Bible".
I remember thinking that myself.  In fact, it may be, or seem similar to the Bible in many ways; however I honestly did not enjoy reading the Book of Mormon as much as I had always enjoyed my Bible.
I marvelled that Joseph Smith translated it within only a couple of months, while for eight months I struggled to get to the end of it. I had a difficult time reading it and wouldn't come near to saying that I even enjoyed reading it at all. It was a trial. I did it out of duty to the Lord.  Seven years later, it pains me to admit that.
Right now I am reading and studying this marvelous book for the fourth or fifth time and I am thoroughly amazed that I ever did struggle so.
There are nuggets of gold, incredible truths buried within these scriptures that flood the heart and soul. Each day as I sit and ponder what I've gleaned with the Holy Spirit's inspiration, my heart overflows with deep love and joy and gratitude for Heavenly Father's goodness to His children.
"And I answered him, saying: Yea, it is the love of God, which sheddeth itself abroad in the hearts of the children of men; wherefore, it is the most desirable above all things.   And he spake unto me, saying: Yea, and the most joyous to the soul."    1 Nephi 11:22-23
It is my desire to continue to give this study all of my mind, my heart and strength. Communing with the Lord in this way has become the highlight of my day.
With the Book of Mormon, God has provided you and me something priceless. Can we ever know in this lifetime the full breadth and depth of all of those blessings that we have been offered?
"The Book of Mormon is true. And was given to bring happiness and hope to the faithful in the travail of the last days." Jeffrey R. Holland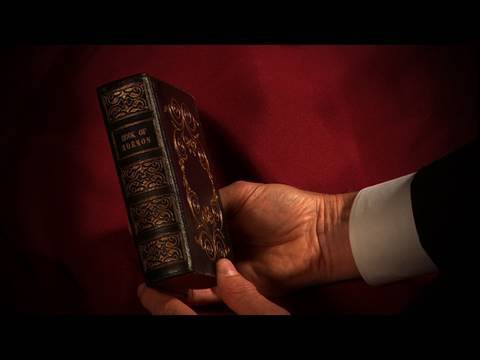 Testimony of the Book of Mormon
Would you like your own Book of Mormon? Contact me.
Or Call 888-537-2200 and ask for one. It's free!